Missionaries to India
GOSPEL WEEK 🗣🌏
We hope that you all had a great day yesterday celebrating the resurrection of our Lord. This week we were able to be a part of the Gospel Week meetings leading up to Sunday in Fatehpur Beri. Each night, we showed a clip from the Jesus Film (an evangelistic tool showing the life of Christ that has been translated into many different languages) in Hindi. After showing the clip, Pastor Uttam gave a gospel presentation each night. Each night we had first-time visitors. We praise the Lord for that!

On Sunday we had about 35 people come for the Sunday service. It was encouraging to see people who have been coming to the church to invite other people and see the people they invited come. After the service, we had a meal together and like always, the food was fantastic!

Nearly every person that comes to the church has never heard the gospel before, never been to a church before, and they are hearing all of this for the very first time. Please pray that God will give us opportunities to follow up with people and that we would be able to share more with them from God's word about their need for salvation.

I am so thankful that not just one time a year, but EVERY DAY, we get to tell of the death, burial, and resurrection of Jesus Christ. What a great honor that our great God has given to us!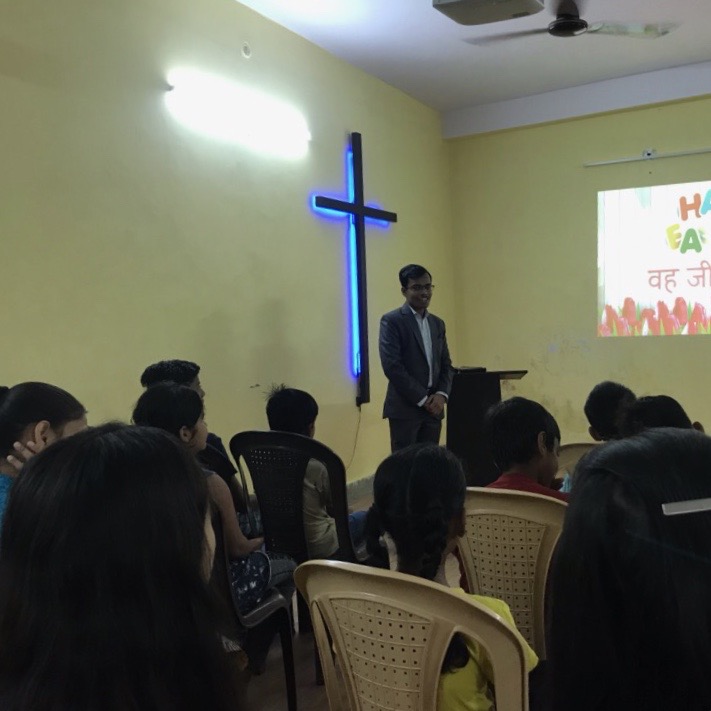 APRIL PRAYER LETTER 🙏🏼✉️🇮🇳
Dear Friends, Rebekah and I want to thank you for praying for us since our last prayer letter. We had a great time in Bangalore, India visiting Bro. Adrian and Sis. Emma Hendricks and the members of Heritage Baptist Church. I was truly thankful for the opportunity to see the ministry and be able to speak on several occasions, especially during an evangelistic meeting for Hindi speakers that live in the area. As the warm weather has already quickly turned up, so has our schedule. We are excited about the gospel meetings that we will be having leading up to Easter Sunday. Starting on Wednesday the 17th with a ladies' fellowship that Rebekah and Dolly (Pastor Sandeep's wife from the Roberts' first church plant) will be leading. From the 18th-20th, we will have special services in the evening. Each night we will show a clip from the Jesus Film building up to telling of the resurrection on Sunday the 21st. We have been passing out cards and are praying that many people will come and hear the gospel. Please pray with us that these would be fruitful meetings. Prayer Requests: Visa Run: We will fly out of India on May 7th to Nepal for a visa run. Since it is illegal to find out the gender of the baby prior to birth here in India, we will be able to in Nepal. We are looking forward to that! Please pray we are able to leave and return with no issues. Rebekah's Health: We praise the Lord for good health for Rebekah and the baby. Rebekah will be entering her 3rd trimester this month. Ministry: Gospel Week from the 18th-21st at the church in Fatehpur Beri as well as the two other church plants.Yours to India, Eric & Rebekah Elrod
PREACHING IN BANGALORE, INDIA 💒🇮🇳✈️
Rebekah and I were invited to visit our friends Bro. Adrian and Mrs. Emma Hendricks in Bangalore, India this past weekend to speak at the graduation service for the Heritage Center of Learning at Heritage Baptist Church. We were so blessed and encouraged to see the work that God is doing through the Hendricks family and the ministry at Heritage Baptist Church.

On Saturday night the church had a special Hindi evangelistic meeting that I had the opportunity to speak at. With Bangalore being in south India, the language is different from what we speak in Delhi, however, there are many there who speak Hindi. The church members worked to invite their Hindi speaking friends and 14 Hindi speakers came to the service and heard the gospel.

Sunday morning I spoke in Sunday school and the morning service and Rebekah and I sang together. Sunday night was the graduation service. There were 4 graduates and each one stood up at the end, giving their testimonies and thanking all of their teachers and the staff for their hard work. It was truly a blessing!

God is doing great things in Bangalore, India! If you would like to know more about the work at Heritage Baptist Church in Bangalore, India, please feel free to reach out to Bro. Adrian Hendricks — pastorhendricks@hotmail.com